Currently browsing the "
Iron Man

" tag.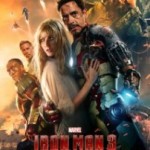 The plot of Iron Man 3 is wonky. But when you've got Robert Downey Jr. donning the suit, it doesn't really matter. You're in for a fun ride – especially if you've seen the previous two Iron Man movies and The Avengers, one of my favorite flicks of 2012.
This time around, wealthy industrialist Tony Stark/Iron Man (Downey) finds his Malibu complex reduced to rubble and his loved ones (most notably, Gwyneth Paltrow's Pepper Potts) threatened by a menacing terrorist known as The Mandarin (Ben Kingsley).
Tony Stark, I fell in love with you the first time we met. But the second time around, well, some of the charm has worn off. I had high hopes for Iron Man 2. The wit and swagger of the first movie drew me in and kept me engaged the entire time we were together and I was expecting more of the same. Sure, there were still flashes of wit, and plenty of swagger, but this time I found it more annoying than endearing. And sad to say, I kept looking at my watch wondering why our second encounter seemed to drag on so long, when really it was just a few minutes over two hours long.