Currently browsing the "
J.C. Chandor

" tag.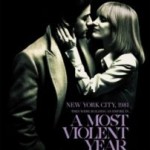 Writer/director J. C. Chandor knows how to keep an audience glued to their seats. With his first film, Margin Call, he had us wondering until the final scene whether a Wall Street firm would crash and burn. And in his second, All is Lost, he was able to make a man all alone in a life raft compelling for nearly two hours. With his third film, A Most Violent Year, he has found another story that would not seem to be terribly interesting and found the tension that forces the audience to care. Set in 1981 in the heating oil trade, it is the tale of a good guy trying to keep his integrity when everything is set against him. Oscar Isaac (Inside Llewyn Davis) plays the central character Abel Morales, an immigrant made good who is doing everything he can to build a business and take care of his family, but it is the most violent year in modern New York City history and you're not sure if he can make it.
This is a movie unlike any other in many ways. There is just one actor whose entire dialogue could fit on an index card. We find out nothing about his back-story — not his name, or why he is all alone on a sailboat in the middle of the Indian Ocean, not even a hint of family or friends. He is no one and everyman listed in the credits simply as Our Man. And Our Man is Robert Redford, still more than capable of commanding an audience's attention despite the loss of his Sundance Kid beauty. All is Lost is the age old story of man-against-nature, and though it may not be for everyone, it is a surprisingly compelling film.