Currently browsing the "
Jessica Brown Findlay

" tag.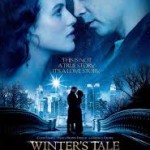 Winter's Tale is an okay chick flick that never quite finds its way. It's part time travel, part fantasy, part drama, part romance. Sometimes sad, sometimes funny, sometimes very odd… like when a horse sprouts wings or Will Smith pops up as the devil.
Fans of the 1983 book by Mark Helprin will be shocked at how much the movie diverts from the lengthy novel. Many of the major characters from the book are changed, omitted or made into composites that don't make much sense. Like why do so many of the characters affect various accents? And what's with Colin Farrell's hair? But I digress…