Currently browsing the "
Jimmy Smits

" tag.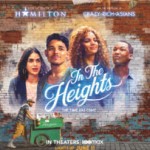 Welcome back to the movies! In The Heights is the first movie I've seen in an actual movie theater in over 14 months. And while it is premiering simultaneously in theaters and streaming on HBO Max, In The Heights is the type of movie that deserves to be seen on the big screen first; and then perhaps, in repeat viewings at home. Especially if you're a fan of movie and broadway musicals. The film adaptation of Lin-Manuel Miranda's 2008 Tony-winning musical runs a tad long, but hits all the key notes in terms of story, acting, singing, message and homage.
I'm not quite sure how I ended up watching Mother and Child instead of Shrek 4 this weekend, but I think it was the casting that ultimately roped me in. Annette Bening, Naomi Watts, Kerry Washington, Samuel L. Jackson, Jimmy Smits. Really – how can you go wrong? Performance-wise, you can't. These pros can make anything watchable. But the movie does have some major flaws in character development, and I'd be hard-pressed to recommend it except to those particularly interested in the subject of adoption.