Currently browsing the "
Joely Richardson

" tag.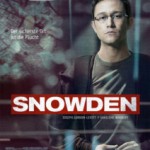 Unless you never watch the news or have been hiding under a rock for several years, you've probably heard of Edward Snowden. A gripping documentary called Citizen Four was made about him in 2013 and won the 2015 Oscar. Here's what I said about that film:
In January of 2013, filmmaker Laura Poitras began receiving emails from a mysterious person who only identified himself as "citizenfour" and who had information about US government surveillance on a scale unheard of in history. A few months later, after a number of encrypted email exchanges, Poitras headed to Hong Kong along with journalist Glenn Greenwald to meet the sender. The rest is history. Waiting for them in a hotel room was Edward Snowden who would hand them evidence of massive citizen surveillance and data mining by the NSA and other government agencies, and would expose our global cyber-spy program.
Oliver Stone's new movie Snowden begins in that hotel with Poitras (Melissa Leo) and Greenwald (Zachary Quinto) and flashes back to Snowden's (Joseph Gordon-Levitt) tortured path to this clandestine meeting. The film succeeds in telling its story without becoming a typical Oliver Stone polemic. Whether that is a good or bad thing is up to you.
Three of the most popular books of 2008-2010 were Stieg Larssen's Millennium Trilogy. The Girl with the Dragon Tattoo is the first book and there is already one great movie of it in the original Swedish. (Here is my review of that one.) But now we have the David Fincher (Fight Club, The Social Network) prettied-up American version. I could just about recycle my first review for the new one, but there are a few differences. It is in English. Daniel Craig is hotter than Michael Nyqvist. And Rooney Mara's Lisbeth is a great deal less insular and a lot more one-dimensional than Noomi Rapace's.