Currently browsing the "
John Patrick Shanley

" tag.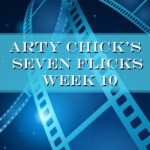 This week is heavy on movies about couples. They include rom-coms and complicated relationship stories, and the characters range from criminals to musicians to politicians, from kings to bakers. The genres include classic dramas, and film noir, and brilliant satire. And there's a good dollop of sex, for good measure.
They're mostly from the 80s and 90s, though one is from the 60s. And something they all (except one) have in common is that they were nominated for a lot of Oscars, and won quite a few.
The films are: Moonstruck, Kiss of the Spider Woman, Body Heat, Nashville, Out of Sight, Four Weddings and a Funeral, and The Lion in Winter
Adapted from a play that director John Patrick Shanley (Moonstruck, Doubt) wrote about his own Irish family, Wild Mountain Thyme is a sweet and funny tale of a couple destined to be together who keep missing their chance. Irish actor Jamie Dornan (Fifty Shades of Grey, A Private War) plays Anthony, an introverted farmer whose Father Tony (Christopher Walken, Hairspray, Deerhunter) isn't sure he should leave the farm to him. And one of the reasons is that he doesn't have a wife. Rosemary (Emily Blunt, A Quiet Place, Mary Poppins Returns) lives is on the neighboring farm and has been in love with him since they were children. But can she convince him that he wants her, too?