Currently browsing the "
John Slattery

" tag.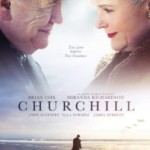 Another movie about Winston Churchill? There have been dozens over the years illuminating various eras and roles in his life. This one takes on just a few days. But what days they were! Churchill takes the audience for a behind the scenes look at the political wrangling leading up to D-day and Churchill's reluctance to commit British troops to the Allied operation. It's one more film that portrays him as an egotistical and difficult man, though here his wife, who was most likely his saving grace, tempers his enormous presence. You know how it ends, if you know any history, but getting there is really more psychological drama than war movie.
This one has Oscar written all over it. It features a fabulous ensemble cast in a compelling docudrama based on a Pulitzer Prize-winning investigation that still reverberates. Spotlight is the name of an investigative reporting unit at the Boston Globe that exposed the Boston Archdiocese pedophilia cover-up in 2001. The film begins as the team is sniffing around for their next story, which can frequently take them some time. But when the paper brings in a new editor-in-chief (Liev Schreiber), rather than letting them choose their own, he hands them an assignment that would become a bomb-shell in a city with deep Catholic roots. What begins as a cursory look at an old story of a single pedophile priest grows larger and reaches higher, and the team does what the best of journalism does, they follow their leads no matter what. And it is devastating.