Currently browsing the "
Josh Hartnett

" tag.
I'm sort of hit and miss when it comes to Guy Ritchie flicks. Wrath of Man falls somewhere in the middle of the road for me. The film is a hallmark Ritchie dark and stylish revenge thriller that follows a mysterious character nicknamed "H" (Jason Statham) who takes a job at a cash trucking company that moves hundreds of millions of dollars around Los Angeles every week. It's an English-language remake of a 2004 French thriller Le Convoyeur aka Cash Truck starring Jean Dujardin (The Artist). Wrath of Man is director Ritchie's third remake, and his fourth collaboration with Statham. So if you're a fan of Ritchie and/or Statham, you can't go too wrong watching Wrath of Man, though brace yourself for a high degree of carnage.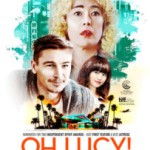 Without doubt one of the quirkiest movies I've seen in a long time, Oh, Lucy! is by turns hilarious and sad and brutally honest. The central character is Setsuko, a 40-something Japanese woman, who's bored beyond belief with her life when her niece Mika (Shioli Kutsuna) talks her into taking a "free trial" English lesson. And what a class that is! The first clue that this will not be a normal school is that it's set in a massage parlor. Then there's the cute teacher John (Josh Hartnett, Penny Dreadful) who employs some "innovative" pedagogical techniques including decking his students out in wigs and doling out copious hugs. He christens Setsuke "Lucy" for the class, and though she was only going to check it out, she has so much fun that she decides to do the classes for real. But when John suddenly heads home to the States, along with her niece Mika, Lucy decides to follow them, and her stuck-up sister Ayako (Kaho Minami) tags along. What follows is Lucy's Southern Californian odyssey of self-discovery.