Currently browsing the "
Krysty Wilson Cairns

" tag.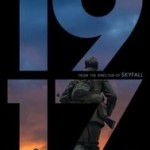 I'm not big on epic war dramas. They all tend to share the same brutal message: War is hell. But 1917 is surprisingly engaging, and best seen on the biggest screen possible. It's an immersive, visceral film that relies on a gimmick of sorts to set it apart from classic war movies like Apocalypse Now, Saving Private Ryan, Dunkirk, etc. The film is designed to give the impression that it's all shot in one continuous take. Gimmick or not, it works. 1917 follows the perilous journey of two young British soldiers sent across enemy lines at the height of the First World War to deliver a message that could potentially save 1600 men from walking into a deadly trap set by the Germans. It reeks of a suicide mission from the start. But one of the young men, Lance Corporal Blake (Game of Thrones' Dean-Charles Chapman) has a very personal stake in getting the message across. His brother is among those heading into an ambush.