Currently browsing the "
Leos Carax

" tag.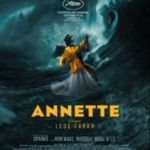 It's been a couple of weeks since I watched Annette and frankly I'm still processing. I'd love to be able to recommend it because it's got music! And Academy-Award nominee Adam Driver! And Academy-Award winner Marion Cotillard!
If only it made sense (at least to the average person). Alas, Annette is just too odd to put into words. Maybe if I broke out into song instead. Nah. My head might 'splode. Or my cat may turn into a singing marionette. Valid concerns if you've seen Annette.