Currently browsing the "
Levi Miller

" tag.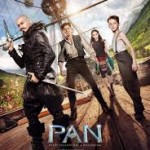 I wouldn't normally go out of my way to see this type of fantasy-adventure, "fun for the whole family" movie, but I was sort of roped into it, so here goes:
It's a perfectly okay fantasy-adventure movie that is fine for the whole family and probably better than fine for kids aged 8-12. Any younger, and it's rather dark, especially at the start. Any older, and it can't compete with the likes of The Hunger Games.
For the adult tag-alongs, the real question is: Do we really need a prequel to Peter Pan??? Must we really know how an orphan named Peter came to be Peter Pan, or who exactly Hook was before he was 'Captain' Hook? No, we don't. In fact, it all kind of muddles the classic nature of writer J.M. Barrie's Peter Pan mythology – a story that has stood the test of time and countless remakes on stage and screen.
For the kids, the questions raised above are probably moot. The movie has a flying pirate ship! It's fantastical! It has kids running amuck! Evil nuns! Swordfights! Fairies! Hugh Jackman!! (okay, that last one was for me).