Currently browsing the "
Mamie Gummer

" tag.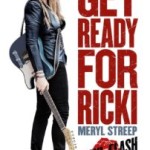 I had to see this flick, cause you know — Meryl. And there was also Dr. Noah Drake, I mean Rick Springfield of "Jessie's Girl" fame. How bad could it be? The good news is that it isn't as bad as I'd heard. But it really isn't what it could have been. Meryl plays the title character Ricki Rendazzo, formerly Linda Brummel of Indianapolis, now a long-in-the-tooth rock and roll singer with her own band called The Flash playing nightly at a locals bar in Tarzana, California. By day she is a cashier at a health food supermarket, and she can barely make ends meet, but she is content with her life. Then she gets a call from her ex. Her daughter is in trouble and she needs to come back to help. She hasn't been there for her kids in years, so what could go wrong?
The End of the Tour is not a biopic so much as an homage to a great writer who killed himself relatively young. In the film David Foster Wallace (Jason Segel of How I Met Your Mother) is the biggest writer of 1996, and David Lipsky (Jesse Eisenberg) is a new reporter at Rolling Stone who talks his editor into sending him on a book tour with him. It is the first time Rolling Stone has done an author piece, but Wallace's latest book, Infinite Jest, is earning him comparisons to Hemingway and Fitzgerald. Lipsky, a novelist himself, is jealously in awe of Wallace. What transpires is mostly a road trip interview. Yes, it is an interesting conversation, particularly so for other writers, and it is pretty much all talk and nearly no drama, but as Lipsky notes at the end of the film, "It was the best conversation I ever had." And it surely is one of the better ones I have listened to in a while.