Currently browsing the "
marc maron

" tag.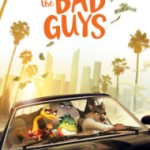 The Bad Guys… aint so bad. And neither is their movie. The film is basically an animated animal version of Oceans 11. A heist movie for the under 12 set, paced to keep both kids and adults at least moderately entertained. The plot revolves around a menagerie of outlaws who get a kick out of grand larceny. Their lifestyle choice is more about the camaraderie than the crime. They just happen to be very good at being bad. Until the law finally catches up with them and they are forced to rethink what they do, who they are, and what they want to be. Good? Bad? A little of both perhaps?
This Netflix title caught my eye because I was a fan of the TV series "Spenser for Hire" (starring the late Robert Urich) in the mid-1980s and was curious how a new movie version of the crime drama might play out with Mark Wahlberg in the lead role. The film is directed by Peter Berg who's worked with Wahlberg several times in the past decade, in big-screen features like Patriots Day, Deepwater Horizon, Mile 22 and Lone Survivor. Spenser Confidential would be weak for a theatrical release, but it's entertaining enough for Netflix streaming – for nostalgia's sake and/or if you just like watching Wahlberg do his thing. Check, check.