Currently browsing the "
Mark Twain

" tag.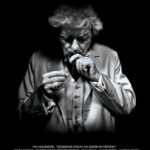 The AFI Documentary Festival opened in Washington, DC on June 18th with a selection that proved both informative and entertaining: Holbrook/Twain: An American Odyssey.
I've been living under a rock, so I wasn't all that aware that actor Hal Holbrook has been playing Mark Twain on stage for 60 years. SIXTY YEARS!!!! At 89, the guy is a scholar and a stud.