Currently browsing the "
Martin McDonagh

" tag.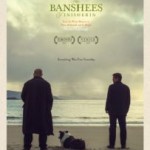 The Banshees of Inisherin is an excellent film, though it does takes some processing– the kind of thoughtful processing that might be lost if you wait to see it streaming or On Demand rather than in a theater. It's a dark comedy that goes pitch black as it provokes rolling waves of emotion that run the gamut from humorous quirk, to sadness, grief, despair and maybe a bit of hope. The film is beautifully shot–on the west coast of Ireland–and features awards-consideration-worthy performances from the leads as well as the supporting cast. So if you want to get a jump start on films that could make the short list for the Oscar pool, The Banshees of Inisherin needs to be on your radar.
Three Billboards Outside Ebbing, Missouri is a darkly funny masterpiece. Oscar nods await, no doubt. It's the story of Mildred Hayes (Frances McDormand) a mother who is righteously pissed that local law enforcement hasn't come any closer to catching her daughter's killer after seven months. So she puts her anger on display on three billboards just outside town calling out law enforcement for not doing their job, eliciting an immediate reaction from the whole town – some with her, some not, mostly because she singles out the town's beloved Sheriff Willoughby (Woody Harrelson). One of his deputies (Sam Rockwell) who has some serious anger management issues of his own takes it as a slap to the whole department and retaliates, and things just escalate from there.