Currently browsing the "
Mary Steenbergen

" tag.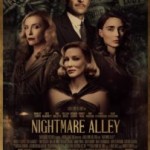 I've been a big fan of Oscar winner Guillermo Del Toro (The Shape of Water) since he first made his mark with Pan's Labyrinth back in 2006. He's a master at creating fantasy-filled narratives in visually striking settings. Nightmare Alley is lacking the fantasy that propelled his previous work. It tries to make up for that with one of the most gorgeous production designs in ages. And Bradley Cooper turns in an awards worth performance as conman Stanton Carlisle who rises from carnival side show mindreader to high society psychic, alongside an all-star cast that also includes Cate Blanchett, Toni Colette, Rooney Mara, and Willem Dafoe. But for all that, it ends up being a whole lot of flash that never pays off.
If you've ever been part of a book club and/or read the kinky romance trilogy "Fifty Shades of Grey," then you'll totally 'get' this movie and enjoy a few good laughs along the way. It's formulaic and predictable and largely stakes-free, but as the friend who accompanied me to a special Mother's Day screening of the film declared, "We need that type of movie once in a while!" In other words, don't over-think it. Just appreciate Book Club for its lighthearted nature and positive themes about embracing change, taking risks, and starting new chapters in the book of life. And, enjoy it for the cast: a powerhouse ensemble of veteran actors led by Diane Keaton, Jane Fonda, Candice Bergen and Mary Steenbergen.