Currently browsing the "
Michelle Monaghan

" tag.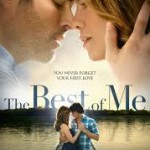 If you've never seen a movie adapted from a Nicholas Sparks novel, then don't start with this one. The Best of Me is not the worst of the bunch, but it's not the best either.
Message in a Bottle, A Walk to Remember, The Notebook, Nights in Rodanthe, Dear John, The Last Song, Safe Haven…
Love 'em or leave 'em. They are what they are. Sweet, formulaic, sappy, romantic, tragic… an uplifting downer with lots of water and a sweeping score that will let you know what you're supposed to be feeling – or fearing – at any given moment. And, of course, attractive actors playing characters with names like 'Dawson' and 'Amanda'.
Don't be scared away by talk of quantum mechanics, complex mathematical equations, and computer source codes. You don't have to understand any of that to enjoy this movie (trust me, I know). Source Code is a bit like Groundhog Day meets Speed meets Inception meets 24. It's a sci-fi thriller that takes place primarily on a commuter train that is – literally- about to explode.