Currently browsing the "
Miss Pettigrew Lives for a Day

" tag.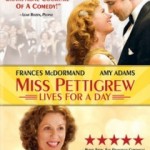 Looking for a good chick flick rental? Miss Pettigrew Lives for a Day is the perfect little piece of fluff. Set in London between the wars, it stars Frances McDormand as Guinevere Pettigrew, a middle aged governess who is let go from her job with no severance. The agency won't give her another assignment, but she overhears a phone call about a job working for an American singer/actress and pretends to be the "social secretary" they were looking for. The American actress named Delysia (sounds like delicious) Lafosse is played by the ever-bubbly Amy Adams.