Currently browsing the "
MJ Bassett

" tag.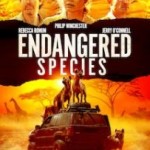 Okay, I may have to rethink the whole African Safari dream vacation thing…
Endangered Species is a family action adventure thriller that never quite finds its footing. It's not horrible, but so much is telegraphed from the get-go that it's hard to get too invested in the superficial story, stereotypical characters, or even the wild animals that populate this Kenya Safari gone very wrong.