Currently browsing the "
Moby-Dick

" tag.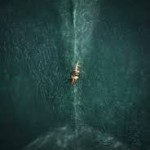 They should have had a bigger boat.
In the Heart of the Sea is sort of like The Perfect Storm meets Jaws – in the year 1820. It's an epic 'big fish' tale with a title nearly as long as the tail of the whale that inspired Herman Melville's literary classic, "Moby-Dick" (which I have yet to read). The best thing the movie has going for it is Chris Hemsworth (Thor). If not for him, I would likely have skipped this cinematic voyage altogether, despite its being helmed by one of my favorite directors, Ron Howard. The pair worked together on the excellent, under-appreciated 2013 movie Rush, in which Hemsworth proved that he's got a lot more to offer than Nordic-god good looks and proficiency with a hammer. Turns out, he's quite handy with a harpoon too!