Currently browsing the "
moon landing

" tag.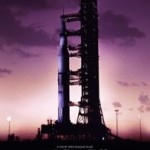 July 1969. I was barely two, so I don't have any real memory of watching history unfold on television, as NASA attempted (and accomplished) its most daring mission ever: to put a man on the moon. Fast-forward fifty years, and I can almost believe I shared the moment in real-time with millions of other Earth-bound spectators. That's what makes this new documentary so darned cool (especially in IMAX). It's not just a rehash of the oft-seen grainy footage of astronauts in bulky suits skipping along dusty craters and planting the Stars and Stripes. Apollo 11 offers a much wider view, literally and figuratively, thanks to the discovery and restoration of a trove of 65mm wide format footage and more than 11,000 hours of previously-uncataloged audio recordings.
I love Ryan Gosling (La La Land, Drive, The Notebook). I love space dramas, and true stories, and American heroes. I'm a big fan of director Damien Chazelle (Whiplash, La La Land). But I just didn't love First Man – much as I really, really wanted to. It's a solid flick, for sure, with some great visual effects and a moving narrative about the risks and sacrifices astronaut Neil Armstrong (and many others) took in one way or another to advance our exploration of space. I was a mere toddler when Armstrong landed on the moon in 1969, but I can assure you I was plopped in front of the TV along with half the planet to watch history unfold. No #FakeNews here! President John F. Kennedy issued a challenge, and we sent a man to the moon. How awesome is that? This is the stuff of movies! Which brings me back to… First Man.