Currently browsing the "
Morfydd Clark

" tag.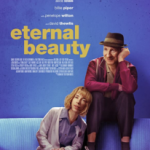 Mental illness seems to be the zeitgeist in the film world right now. And fortunately it's being explored in a wide range of genres. Paper Spiders looks at paranoid delusion through a mother-daughter/coming-of-age drama. Words on Bathroom Walls takes a YA view of a teen dealing with schizophrenia. And The Burnt Orange Heresy takes it into mystery-thriller territory. And now comes Eternal Beauty a dramedy about a woman living with paranoid schizophrenia. Sally Hawkins (The Shape of Water, Maudie) plays Jane, a sometimes lovable odd-ball who lives on her own albeit with a host of voices in her head keeping her company. Her extremely dysfunctional family doesn't really help her maintain any sense of sanity. But despite a number of bumps and detours in her road, she keeps a hopeful outlook (at least when she's on her medication.) It's a strange film and worth seeing especially because of Hawkins's bravura performance.
When you think of Jane Austen, you think of young women in dire straights IF they don't marry well. You think of a constrained society and English estates where the rich lord it over those who may have come down in the world. Whit Stillman's take on Austen's unpublished novella "Lady Susan" that was written when she was just 14-years-old turns the usual Austen genteel society on its head. Love and Friendship's protagonist is a beautiful young widow who isn't the least bit interested in following the dictates of the day and is happy to play her many suitors to her advantage. Played with deep dark humor by Kate Beckinsale, Lady Susan Vernon may be lacking in funds, but she more than makes up for it with her cunning and wit. She's determined to land herself a rich husband and one for her daughter, too. In any other Austen novel, she'd be the one who is destined to fail, because she is so transparently gold-digging, but here she cannot lose.