Currently browsing the "
Muppets

" tag.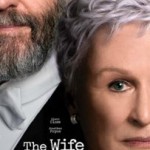 The Wife is a slow-burn drama with a mystery twist that explores the relationship between Joan and Joe Castleman (Glenn Close and Jonathan Pryce), a long-married couple who travel to Sweden to collect his newly-awarded Nobel Prize for Literature. The two seem to complement each other in style and temperament, with Joan playing the doting, charming, graceful and diplomatic wife and mother while Joe oozes vanity, selfishness and a philandering spirit. There does appear to be true love at the core of the relationship, but there's a simmering resentment that threatens to boil over in Joan as the award ceremony approaches. We learn why through a series of flashbacks to Joan and Joe's courtship and from their present-day interactions with a writer (Christian Slater) who is trying to convince the Castlemans to let him write Joe's definitive biography.
It's time to play the music. It's time to light the lights… Oh, nostalgia take me away! I grew up with the Muppets and have fond memories of them. So when I heard there was a new Muppet movie coming out after all of these years I was excited to relive a little bit of my childhood. But I was also worried that it wouldn't live up to my Muppet memories. Let's face it, most things from our childhoods rarely do. But I am happy to report that The Muppets are just as fun now as they were back then.