Currently browsing the "
Naomie Harris

" tag.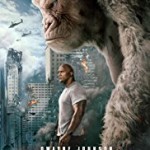 There's just something about Dwayne "The Rock" Johnson that lets him get away with making disastrous disaster movies. Perhaps it's the twinkle in his eye as his characters defy death for the gazillionth time, the gentle nod to the absurdity of the plot, the giant muscles in constant flex for the betterment of humanity… Whatever it is, it's working for him. Rampage is ridiculous. But it's not bad. Especially if you have a thing for monster movies, disaster movies, a high body count, cartoonish villains, stereotypical government 'suits', implausible stunts, self-deprecating humor and cheesy dialogue.
Moonlight doesn't have any major star-power going for it, but the film could easily become one of those smaller, underdog indies that breaks through the field this Awards season– if enough people see it and word of mouth spreads. It's a poignant drama adapted from a play called "In Moonlight Black Boys Look Blue" by Tarell Alvin McCraney. The film chronicles a young black boy's tumultuous and painful journey of self-discovery and sexual identity as he grows up in a rough Miami neighborhood. Three different actors portray the lead character Chiron (Alex Hibbert, Ashton Sanders, Trevante Rhodes), and the transitions are impressively seamless.