Currently browsing the "
Omar Sy

" tag.
Writer/director Michel Gondry brought us Eternal Sunshine of the Spotless Mind , one of the more strangely inventive stories of the 21st century. With Mood Indigo he returns with a French novel adaptation that is every bit as odd, though maybe not quite as effective. It begins as Colin discovers that his best friend Chick has found love, which sends him on a quest to find his own. His chef/friend/lawyer Nicolas, the beautiful Omar Sy from The Intouchables, has a neice who is having a party, and there Colin meets Chloé, the lovely Audrey Tautou of Amélie. He is instantly smitten. And their romance is all fun and sweet and beautiful until she falls ill with a water lily growing in her lungs and the world turns dark.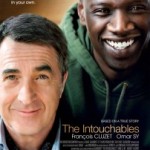 The Intouchables is my new favorite French feel-good film! Based on a true story, I must admit, the premise sounded like a total downer. A rich Parisian quadriplegic hires an angry, young black man from the projects to take care of him, and they develop a real friendship. It's a cross-cultural buddy film plot that could easily have fallen into cheesy clichés, but instead is funny, sweet and totally engaging with a kickin' soundtrack. A large part of the film's success lies in the casting of the two leads. Omar Sy plays Driss, a ne'er do well who has no interest in the job, but only shows up at the interview to get a paper signed so he can say he has applied and get his welfare check. And Francois Cluzet plays Philippe, the super-rich aristocrat who became wheelchair bound after a paragliding accident and is sick to death of being pitied.