Currently browsing the "
Paolo Sorrentino

" tag.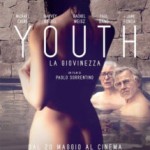 Italian writer/director Paolo Sorrentino was responsible for one of my favorite foreign films of the last few years, The Great Beauty aka La grande bellezza. That film dealt with a Roman writer's shifting view of his life following his 65th birthday bash. In Sorrentino's newest film Youth, he again looks at men of a certain age, coming to terms with their place in the world. This one is in English and stars Michael Caine as Fred and Harvey Keitel as Mick, two long time friends who are vacationing in a luxurious alpine spa.
One of the five films nominated for the Best Foreign Language Oscar, The Great Beauty is an amazingly wonderful dip into the pool of modern Roman decadence. The story is told from the perspective of Jep Gambardella (Toni Servillo), a journalist who turns 65 at the beginning of the film, and who despite being known for his great first novel decades earlier, is still searching for his inspiration for a second. The film owes a great debt to Fellini. You cannot help but think of La Dolce Vita and 8 1/2, but Jep is much more world weary than Marcello, and the movie is much more than mere homage. It has some of the most striking imagery of any recent film. And if you love Rome, this is a must see!