Currently browsing the "
Paul Schrader

" tag.
My first experience with reading film criticism was with my mother's New Yorker magazines. Most of what was in the magazine was too highbrow for me as an adolescent, but the film reviews by Pauline Kael were such fun to read. She was opinionated and frequently went against the consensus of the other critics who were mostly male. She had a voice that set her apart, seeing films as if she were in the audience not separated from them. This new documentary made me appreciate her even more. She was a feminist, having fought to get her foot into the boys' club that was the film critics' world of the 50s and 60s. She had encyclopedic knowledge of movies and wasn't afraid to say when she thought something was derivative or a filmmaker was being repetitive, something she saw a lot in the beloved "auteur" directors of the 60s. She was loved by many and hated by many others. But even the haters admitted that she was a hell of a writer!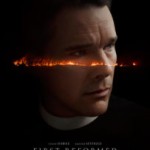 It's that time of year again. The run-up to awards season, when I catch up on all the films I missed for one reason or another. And since First Reformed is already winning top honors in the early year-end critics' awards, I thought I should watch it. It's from Paul Schrader who was the hottest writer (Taxi Driver, Raging Bull, Mosquito Coast) and sometimes director (American Gigolo) in the 70s and 80s and then mostly faded away. But with this film, it's clear he's still got it. He knows how to draw a deeply flawed man in a deepening personal crisis, and his Rev. Ernest Toller played masterfully by Ethan Hawke (Juliet, Naked, Maudie, Boyhood) is his best character in decades. Divorced, ill, drinking, and questioning his faith, Toller is circling the drain, while the tiny church he heads is planning its 250th anniversary rededication and one of his parishioners is in desperate need of guidance he's ill-equipped to give. This is not a happy movie, but it is intensely thought-provoking and a glorious return to form for one of our great filmmakers.