Currently browsing the "
Paul Weitz

" tag.
Grandma is a bare-bones indie that will likely appeal to those in the artier crowd who like a simple, dialogue-driven movie and the acerbic wit of Lily Tomlin. The veteran actress and comedian plays a lesbian Grandma named Elle Reid whose granddaughter Sage (Julia Garner) shows up on her doorstep requesting about $600 to have an abortion that is scheduled for later that day. Elle doesn't have the cash — but she's willing to help Sage get it. The two spend the next few hours cruising around town in Grandma's vintage automobile in search of friends, and others, who may be willing to float them a loan or give them the money outright. Their unannounced visits rattle a few cages and stir up old memories, especially when they drop in on one of Grandma's old male flames (Sam Elliott). Needless to say, there's an interesting dynamic at play here – and it results in one of the more surprising moments the film has to offer.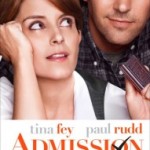 This one sneaked past us while it was in the theaters, but it feels like a "stay home with a big bowl of popcorn" kind of movie anyway. It's basically a pleasant flick in search of a genre. It's not really a comedy or a romance or a romcom or anything else. It has a good cast, but there is no chemistry between the two leads, Paul Rudd and Tina Fey. And even though the characters are likeable, they are not given a whole lot to do. Perhaps the problem lies with the setting, the Admissions Office at Princeton University, not the first place you think of for hilarity and romance.