Currently browsing the "
Pernille Fischer Christensen

" tag.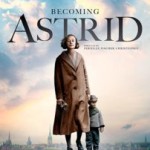 This lovely Swedish biopic tells the story of the challenging early life of Astrid Ericsson (Lindgren) who would go on to write the children's classic Pippi Longstocking and a slew other memorable books. Born in a rather idyllic if strict farming community, at 16 she was offered a job at the local paper and fell for the married editor. Though it was reciprocated, an unplanned pregnancy caused her to make some very difficult decisions that colored the way she saw children and undoubtedly made her the writer she was to become. Played by Alba August (The Rain), Astrid is initially brimming with curiosity and energy, but her pregnancy and the choices she is forced to make with the child take a heavy toll. Fortunately, it all works out by the end, or we wouldn't have her wonderful books.