Currently browsing the "
Radhika Apte

" tag.
This based-on-a-true-story WWII drama centers on three women in a British spy agency you probably never heard of – the SOE, Special Operations Executive. Early in the war, it was set up to recruit women to enter Nazi-occupied France, send back intelligence, and build the resistance. Churchill figured that women could move around more inconspicuously than men. In the film Vera Atkins (Stana Katic, "Castle") a secretary of the SOE is in charge of recruitment and selects two women to send abroad – Virginia Hall (Sarah Megan Thomas), an American woman with a wooden leg who's been turned down for the US diplomatic corps, and Noor Inayat Khan (Radhika Atpe), a Muslim pacifist who's a crack wireless operator. They both distinguished themselves, so much so in Hall's case that Klaus Barbie gave orders to hunt her down.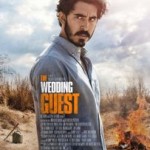 You might expect from the title that this is another of director Michael Winterbottom's light comedies as in The Trip series, and that it has something to do with nuptials, but you'd be sorely mistaken. There's no wedding and no guest, though the main character Jay (Dev Patel – Slumdog Millionaire, Lion) does pose as one early on in the movie. But given the fact that his shopping list for the trip included duct tape and a couple of guns, you know he isn't probably going there for the happy day's celebration. He's actually come all the way from England to a dusty village in Pakistan to kidnap the bride. But of course things don't go exactly as planned. And that propels him and the bride Samira (Radhika Apte) on a danger-filled journey criss-crossing Pakistan and India as the relationship between kidnapper and hostage morphs into something entirely different.