Currently browsing the "
Rami Malek

" tag.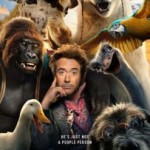 I often skip the "kids movies" since my nieces and nephews have aged out of them. But I will generally make an exception for animation, musicals and anything with Robert Downey Jr. Dolittle has the latter. After years of playing Iron Man, Sherlock Holmes, and other PG-13 and R-rated characters, Downey wanted to make something his younger kids could see. Thus, we have Dolittle – a sweet, harmless, sometimes goofy film reminiscent of the family-friendly comedy adventure films of my youth. It won't displace the 1967 Rex Harrison version (with music!), or Eddie Murphy's 1998 take on the classic tale; but for a new generation, this re-imagining of the doctor who can communicate with animals is superficially satisfactory. It's got enough heart and animal shenanigans to entertain the kids and placate most of the adults in tow.
As biopics go, Bohemian Rhapsody is not a great movie. But it does feature plenty of strong performances and a final act that more than makes up for its shortcomings – particularly if you're a fan of Queen and/or grew up in the 'Live Aid' generation. Bohemian Rhapsody chronicles the men and music that made up the iconic British rock band fronted by Freddie Mercury (Rami Malek, TV's Mr. Robot) from 1970 until his AIDS-related death in 1991. To this day, the band plays on – in various incarnations – with Mercury's influence still vital to its core, though his energetic presence is sorely missed. He was a unique dude.