Currently browsing the "
Ramona Edith Williams

" tag.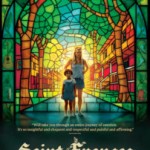 Written by and starring Kelly O'Sullivan Saint Frances is a small dark comedy that centers on the expectations women live with and one young woman's choices. Bridget (O'Sullivan) is in her 30s and constantly reminded that everyone around her is having kids, succeeding in their careers, and generally being a better grown-up than she is. She's a server in a restaurant, even though she was a rising star at Northwestern before she dropped out. But things start looking better when she lands a summer job as a nanny to Frances (aka Frannie), a six-year-old in the upper middle class Chicago suburbs whose Moms are expecting another baby.