Currently browsing the "
Red Carpet

" tag.
By now, anyone familiar with us, and our site, is well aware that Arty Chick and I went to the Oscars. Sort of. We've plastered our pictures on Facebook and across the social media universe and regaled our friends with tales from the Red Carpet. But in case you've just stumbled across Chickflix.net or are hungry for more details, here's how it all went down.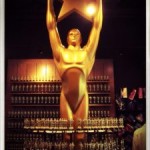 During all my years living in Los Angeles, I never got anywhere near the Academy Awards. I watched at Oscar parties (including one attended by my favorite ♥ George ♥), and I always wondered who all those screaming fans in the bleachers were and how they got to sit there. Now I know. Thank heavens for Mainstream Chick! She entered the lottery online for Academy Awards bleacher seats and won! And I was her lucky +1. So the day of the Oscars, we headed to Hollywood.