Currently browsing the "
review

" tag.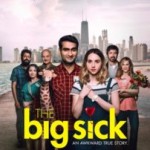 The Big Sick is an offbeat romantic dramedy based on the real-life courtship between Pakistan-born actor/comedian Kumail Nanjiani and his therapist-turned-writer/producer wife, Emily V. Gordon. The pair co-wrote the script that dramatizes – in a clever and witty way – the struggles they went through to overcome cultural differences, and a major health scare, to find their happily ever after. Kumail is played by Kumail Nanjiani (not necessarily the smartest casting decision) while Emily is played by Zoe Kazan, who has much stronger acting chops, even though she's in a coma for half the movie. The film is bittersweet and also rather timely as a platform for showcasing misconceptions about Muslim culture.
This one's tough. The performances are excellent, but I kind of wanted my two-and-a-half hours back. Prisoners is intense and plodding and psychologically taxing, and every parent's worst nightmare. Hugh Jackman plays Keller Dover, a desperate father who decides to take matters into his own hands when his young daughter and a neighborhood friend go missing. Jake Gyllenhaal plays the lead detective whose entire life revolves around his job.