Currently browsing the "
robots

" tag.
From the guys who brought you Shaun of the Dead (2004), Hot Fuzz (2007) and Paul (2011)…That's really all you need to know. If you're a fan, then hustle on over to The World's End. If you're not into that particular genre – a strange, yet engaging brew of comedy, sci-fi adventure and satire – then you may want to take a pass. Here's the gist: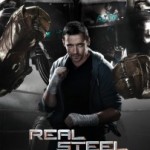 Real Steel is essentially Rock 'em Sock 'em Robots (those of you of a certain age know what I'm talking about) with Hugh Jackman. And you know what? I'm okay with that. I can see why this movie is number one at the box office for the second week in a row. It's a fun movie that's got heart.