Currently browsing the "
Romain Duris

" tag.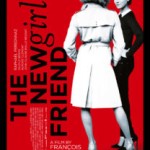 Written and directed by one of my favorite French directors, François Ozon (Potiche, In the House), The New Girlfriend is loosely adapted from a story by the wonderful mystery writer Ruth Rendell. But it isn't really a mystery. It's more a psychological thriller about a woman's loss of her BFF and her finding a new one in the most unexpected place. It's about love and loss and gender identity and the fine line between attraction and friendship. And it is extremely well done.
Writer/director Michel Gondry brought us Eternal Sunshine of the Spotless Mind , one of the more strangely inventive stories of the 21st century. With Mood Indigo he returns with a French novel adaptation that is every bit as odd, though maybe not quite as effective. It begins as Colin discovers that his best friend Chick has found love, which sends him on a quest to find his own. His chef/friend/lawyer Nicolas, the beautiful Omar Sy from The Intouchables, has a neice who is having a party, and there Colin meets Chloé, the lovely Audrey Tautou of Amélie. He is instantly smitten. And their romance is all fun and sweet and beautiful until she falls ill with a water lily growing in her lungs and the world turns dark.