Currently browsing the "
romdram

" tag.
The Photograph is a fairly straightforward romantic drama that is slow to develop and fails to rise above ho-hum despite its very likeable and very attractive leads – Issa Rae and Lakeith Stanfield. She plays a New York museum curator named Mae; he plays a rising-star journalist named Michael. They are brought together by the mystery of an old photograph of Mae's recently-deceased mother Christina (Chanté Adams), a renowned photographer whom Michael has been researching for a story. The film intertwines Mae and Michael's budding romance with flashbacks from a past romance involving Mae's mother and a young beau in Louisiana.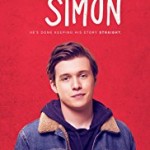 There's plenty to love about Love, Simon. It's a charming romantic dramedy about a cool high school senior who has an awesome family, a great circle of friends, and one big secret: he's gay. This isn't some small indie drama that weighs heavy on the soul. It's a sweet, lighthearted, relatable coming-of-age and coming-out story that plays a lot like a typical John Hughes teen ensemble movie updated for the times, where snapchat, texting and online forums are a primary means of communication. It's backed by a major studio (20th Century Fox) so it actually has a fighting chance to reach a wide, mainstream audience – as it should.