Currently browsing the "
Sally Potter

" tag.
Annihilation is interesting and weird, slow and methodical, and dare I say, bordering on boring. Hyper-sensitive fans of the film may ream me for not fully grasping or appreciating the deeper meaning, the metaphors, the beauty in the bizarre, yadda yadda yadda. But that's okay. I didn't love Arrival either. Annihilation is a cerebral sci-fi horror flick from Alex Garland (Ex Machina) based on the "Southern Reach Trilogy" by Jeff VanderMeer. If you've read the books, you're probably ahead of the game and more likely than most to love this movie. Here's the gist: Natalie Portman plays Lena, an Army veteran and cellular biologist whose husband Kane (Oscar Isaac) was believed killed in action during a secret military mission. He reappears a year later, extremely ill, with no memory of what happened. Government agents nab the newly-reunited couple and take them to "Area X", an unspecified locale that borders a mysterious "Shimmer" that's been expanding along the U.S. coastline.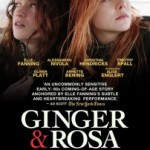 It may be called Ginger & Rosa, but it is Elle Fannings's movie. She plays Ginger, a 16-year-old in London in 1962 whose entire world is in a precarious position for a whole slew of reasons. Her family is coming apart. She is more and more concerned about the threat of nuclear war. And she is at that point in adolescence where the weight of everything just seems too much to bear. She has always been able to talk to her best friend Rosa (Alice Englert) about anything, but now that she is more interested in protesting for disarmament, all Rosa can think about is true love, and the two who have been best friends since birth begin to drift apart.