Currently browsing the "
Serena Williams

" tag.
If you're at all into tennis, this is a must see. Even if you're not, you can't help but be aware of the amazing Williams sisters, Venus and Serena. King Richard is their origin story, and at the center is their father Richard played by Will Smith in what is sure to be an awards contender performance. I remember when they exploded onto the scene in the 90s. The media made a lot of their dad and his presence and his style. A lot of it was not positive. This film serves as a corrective to that depiction, showing a devoted and driven father with an audacious plan, a family who bought into his dream for them, and two extremely talented young Black girls who broke the mold when it came to the polite white tennis world. It's a totally uplifting flick!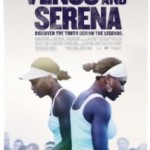 The poster and the trailer for this documentary promise to reveal "the truth behind the legends". That's a bit of a stretch, but the film does offer an interesting, if uneven, glimpse into the Williams sisters' rise from the gritty streets of Compton, California to the Center Courts of the championship tennis circuit. I still can't tell them apart. But I now know that Venus is the older one – by 15 months. And together, they are one fierce, super-talented, competitive, intimidating and inspiring pair.