Currently browsing the "
Sharon Horgan

" tag.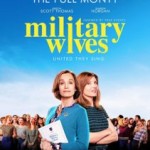 Military Wives is a fairly straightforward feel-good film that offers up a bittersweet salute to military families and their sacrifice, just in time for the long Memorial Day weekend. It's a dramedy that takes place primarily on a British Army base and focuses on a diverse group of women whose partners are deployed to war-torn Afghanistan for six months. To help pass the time, and keep themselves distracted from the daily stresses of juggling family and fear, the women form a singing group that leapfrogs from a small practice room on base to the glaring spotlight of a globally-televised event at London's iconic Royal Albert Hall. The film is inspired by true events surrounding the formation of the very first Military Wives choir that started a decade ago and led to a popular BBC docuseries and dozens of other Military Wives choirs around the world. The characters and much of the story is fictionalized – which likely accounts for the formulaic rhythm of conflict, humor, tragedy and triumph – but the spirit of the film is authentic, and a lot of real military families were used as extras in an emotional send-off scene that sets the stage for the drama to unfold.
Annihilation is interesting and weird, slow and methodical, and dare I say, bordering on boring. Hyper-sensitive fans of the film may ream me for not fully grasping or appreciating the deeper meaning, the metaphors, the beauty in the bizarre, yadda yadda yadda. But that's okay. I didn't love Arrival either. Annihilation is a cerebral sci-fi horror flick from Alex Garland (Ex Machina) based on the "Southern Reach Trilogy" by Jeff VanderMeer. If you've read the books, you're probably ahead of the game and more likely than most to love this movie. Here's the gist: Natalie Portman plays Lena, an Army veteran and cellular biologist whose husband Kane (Oscar Isaac) was believed killed in action during a secret military mission. He reappears a year later, extremely ill, with no memory of what happened. Government agents nab the newly-reunited couple and take them to "Area X", an unspecified locale that borders a mysterious "Shimmer" that's been expanding along the U.S. coastline.