Currently browsing the "
Shawn Levy

" tag.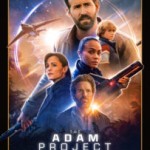 The Adam Project falls squarely in Ryan Reynolds' wheelhouse. It's a family-friendly, PG-13 time travel action adventure film packed with snark, humor and heart. It doesn't rise to the level of Back to the Future or E.T.–two classic films to which it pays homage–but The Adam Project is an easy watch with an engaging cast. Reynolds plays Adam Reed, a pilot who travels back in time to stop the invention of time travel which, in the future, poses a fatal threat to the entire planet. For help, he turns to his younger self (Walter Scobell), a decent kid who's been acting out at school, picking fights with the local bully, and being less than kind to his mom (Jennifer Garner). Young Adam and his mother are both struggling with the loss of their father/husband (Mark Ruffalo) in a car accident about a year earlier. It's a life-changing event that older Adam is still grappling with decades later.
Free Guy is goofy, sincere and fun, probably even more so if you're into gaming. Personally, I didn't know an "NPC" from a "Player One," so it took me a bit longer to embrace the virtual videogame world on display in Free Guy. But in fairly short order, the story and the characters grew on me, and by the end, I was all in – rooting for characters of both the real and the programmed variety, especially our 'every guy' hero, Guy, aka "Blue Shirt Guy", played by Ryan Reynolds (Deadpool).