Currently browsing the "
siblings

" tag.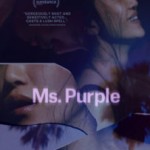 This stylish drama set in L.A.'s Koreatown tells the story of a young woman's dedication to family at the expense of her own happiness and her gradual return to a fulfilling life. Tiffany Chu stars as Kasie, a 23-year old first-generation Korean American who's stuck working as a hostess/call girl in a karaoke bar so she can take care of her comatose father. But when her home health aide abruptly quits, she calls on her estranged brother Carey (Teddy Lee) for help, and she begins to reexamine her relationship with him and with the life she's been living. It's a slow, but beautifully wrought tale.
There are a handful of directors whose names lead me to expect greatness. Bertolucci is definitely one of them. He has written and directed some of the most successful and critically acclaimed films of the last 50 years. From The Conformist to 1900 to The Last Emperor and The Sheltering Sky, his movies have frequently been political and sweeping in scope. His latest by contrast is a small film adaptation of a popular young adult novel with no big name actors and it takes place mostly in a very dingy basement. But it just goes to show how good a director he really is. It is a slight piece, but entertaining and assured filmmaking.