Currently browsing the "
Silent movie

" tag.
I have my favorite movie of the year now, and I expect that The Artist will be at the top of a lot of other reviewers' lists, too. I've been told I gush about it. And I do not gush often. Considering that it is in black & white and is a silent film, you might wonder why.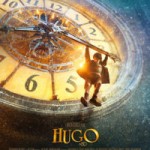 Martin Scorsese's new child friendly adaptation of "The Invention of Hugo Cabret" called simply Hugo is the second film I've seen this month that is a paean to the world of silent film. Unlike The Artist, however, this one is neither silent nor is it in black and white. It is full, glorious color and even available in 3D. (I opted for the 2D version.) It is the story of an orphaned boy (Asa Butterfield) who lives in the secret chambers of a Paris train station keeping all the clocks running on time, while hiding from the over-zealous station master (Sacha Baron Cohen) who has it in for unaccompanied children.