Currently browsing the "
Simon Russell Beale

" tag.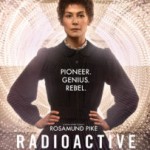 Who coined the term "radioactivity"? Who was the first woman to win a Nobel Prize? Who was the first person to win two Nobel Prizes? What husband and wife duo shared a Nobel Prize in chemistry? Who are the first mother and daughter Nobel Laureates? The answers have one common denominator: Marie Curie.
If you saw In the Loop, you know what you're in for in Armando Iannucci's latest political satire — dark, hilarious, and sometimes creepy. As the title announces, the film is about the death of the ruthless dictator in 1953, though that only takes up a few minutes at the beginning. What it's really about is the political wrangling that begins before he's even left this world. There are three men vying to be the new Soviet leader: Stalin's second-in-command, the idiot Georgy Malenkov (Jeffrey Tambor), the ambitious Party chief Nikita Khrushchev (Steve Buscemi), and the truly sick secret police chief Lavrenti Beria (Simon Russell Beale). Malenkov didn't have a chance, but Khrushchev and Beria would stop at nothing. The film is adapted from a comic book telling of the story, and everything that happens has a darkly absurd quality. And even though it's based in reality, I'm sure the actual men were never as hilarious as they appear in this telling.