Currently browsing the "
skateboarding

" tag.
I'm not a big fan of the skateboarding scene and when I heard this documentary was one of the five Oscar nominees, I knew I had to watch, but I wasn't planning on getting into it much. But wow! Yes, it is set in the skateboard dude world, but it's more than that. It's a coming of age story of three boys/men in the depressing town of Rockford, Illinois, where skateboarding is the only good thing they have in their lives. Bing Liu is the filmmaker and one of the three. He started out just shooting for the fun of doing skate videos for YouTube, but found the stories of his two best friends resonated with his own and continued for more than a decade, ending up with a sobering take on toxic masculinity and its effect on sons. It's not easy to watch, but it is an amazing film.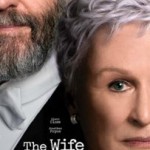 The Wife is a slow-burn drama with a mystery twist that explores the relationship between Joan and Joe Castleman (Glenn Close and Jonathan Pryce), a long-married couple who travel to Sweden to collect his newly-awarded Nobel Prize for Literature. The two seem to complement each other in style and temperament, with Joan playing the doting, charming, graceful and diplomatic wife and mother while Joe oozes vanity, selfishness and a philandering spirit. There does appear to be true love at the core of the relationship, but there's a simmering resentment that threatens to boil over in Joan as the award ceremony approaches. We learn why through a series of flashbacks to Joan and Joe's courtship and from their present-day interactions with a writer (Christian Slater) who is trying to convince the Castlemans to let him write Joe's definitive biography.