Currently browsing the "
Sophia Lillis

" tag.
It's 1973. And small town America is still not awake to their gay citizens. 18-year-old Beth, from Creekville, South Carolina adores her Uncle Frank (Paul Bettany, Avengers, Journey's End) who lives in New York. So where does she decide to go to college, but NYU, where he's a beloved professor of literature. Naive as she is, she's surprised to discover that her uncle is gay and has a partner! But when his father, her grandfather, with whom he's had a frosty relationship dies, the two of them head south for the funeral. And his partner Wally/Walid (Peter Macdissi) unexpectedly joins them. It's a family melodrama that doesn't always work, but is elevated by some strong performances, particularly Paul Bettany.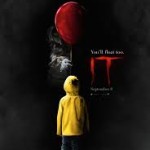 I get it now. The creepy clowns. The red balloons. The yellow slicker. The references to "You'll float too." All things I'd be privy to had I read "IT" (the Stephen King novel) or seen IT as a television mini-series in 1990. Alas, the big-screen adaptation of IT served as my introduction to IT, and I can honestly say — as a reluctant horror-moviegoer — IT is scary good, and probably scary great for ITs die-hard fans.