Currently browsing the "
spoof

" tag.
Here's the deal: If you're old enough to remember – or at least have a fondness for movies like Alien, Close Encounters, E.T., Escape to Witch Mountain, and Galaxy Quest, then trust me– you will find this movie downright hilarious – and heartwarming.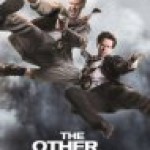 Hmmmm. This movie isn't bad. But it sure is weird. My inclination is to say "skip it", but a lot of people laughed, a lot, during the course of this movie. They also groaned a lot, "ewwwwww"ed a lot, and said "Say Whaaaat?" a lot. So who am I to judge?