Currently browsing the "
Stephen Fry

" tag.
When you think of Jane Austen, you think of young women in dire straights IF they don't marry well. You think of a constrained society and English estates where the rich lord it over those who may have come down in the world. Whit Stillman's take on Austen's unpublished novella "Lady Susan" that was written when she was just 14-years-old turns the usual Austen genteel society on its head. Love and Friendship's protagonist is a beautiful young widow who isn't the least bit interested in following the dictates of the day and is happy to play her many suitors to her advantage. Played with deep dark humor by Kate Beckinsale, Lady Susan Vernon may be lacking in funds, but she more than makes up for it with her cunning and wit. She's determined to land herself a rich husband and one for her daughter, too. In any other Austen novel, she'd be the one who is destined to fail, because she is so transparently gold-digging, but here she cannot lose.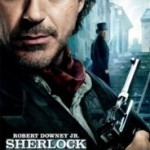 They're baaack! Holmes and Watson (Robert Downey Jr. and Jude Law) pick up slightly after we last saw them in the first Sherlock Holmes. Dr. Watson is about to be married, and Holmes is still not entirely happy about it. And meanwhile, bombs are going off all over Europe, and while everyone else is blaming it on anarchists, Sherlock knows that it has something to do with his arch-nemesis Professor Moriarty (Jared Harris). He just has to put the pieces together, and he is willing to play Moriarty's extreme body-count cat and mouse game if necessary, even if it means ruining Watson's honeymoon.