Currently browsing the "
Tarantino

" tag.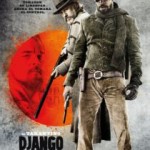 I am not a huge Tarantino fan. I was when he started out with Reservoir Dogs and Pulp Fiction, but then he went through a phase that I can only call his "look at me, ma! I'm a Hollywood director" period, where he got funding to make whatever was in his adolescent head. Then came the critically acclaimed Inglourious Basterds, and I swore I'd never go to another of his films, ever! But, something inexplicably drew me to see his latest, Django Unchained, and I can only say, I forgive you Quentin. It turns out to be a very entertaining mix of Mel Brooks, Sergio Leone, and Gordon Parks, with a lot of gore (and the controversially prodigious use of "the N word.")
Where to start with this one? Quentin Tarantino has basically taken every spaghetti western cliché he can think of mixed it into a Nazi war movie and patched it together with a movie soundtrack that takes you back to all those big epic movies. Too bad he forgot to make any characters you actually care about. If he was paying homage or just being derivative of spaghetti westerns or war epics, he must have missed the part where they (the inglorourious basterds of the title) are the good guys, where they have a code that puts them above the bad guys (Nazis) and where the characters, though flawed, have distinct personalities.