Currently browsing the "
Tate Donovan

" tag.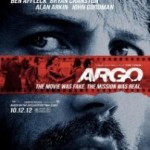 I'm always a bit wary of adding to the hype and expectations of any movie that generates "Oscar buzz" before Halloween. But I really liked Argo. A lot. Enough to tout it for Best Picture and Best Director consideration. It's one of those movies that has everything going for it. Good story. Good characters. Good pacing. And a solid mix of drama, humor and intensity. It's like watching All the President's Men meets Apollo 13.
The plot is preposterous – and that's why it works. The story is based on actual events that were kept classified for nearly two decades. Seriously, you couldn't make this stuff up if you tried – unless perhaps you work in the intelligence community. Kinda makes you wonder what crazy covert ops we'll find out about 20 years from now.